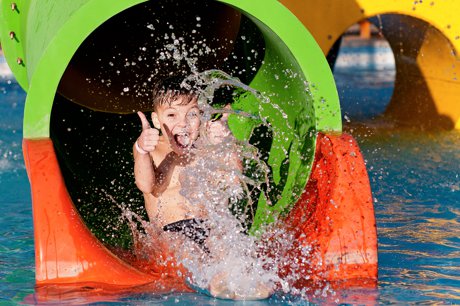 Cape Coral real estate is the place to be on warm Florida afternoons. At the Sun Splash Family Waterpark it's easy to beat the heat! Slick water slides spin folks up, down and round and round. A slow winding river is meant for lazy summer days. Splash zones are as wet and wild as they come, and laughter is free flowing all day long. Almost 15 acres of space is dedicated to crisp, cool fun.
Water rushes and tubes fly through a darkened tunnel after being launched off a 30 foot platform as the bravest of the brave conquer Cape Fear. Free flyers skip the tubes for their 30 foot drop but enjoy the dark as well in the Fun-L Tunnel. The adrenaline continues to flow for 200 feet in the open air Zoom Flume. The Electric Slide, illuminates with energy as folks zip down five stories. While the action seems non-stop, there are numerous places to wind down at the waterpark as well.
Laze Away Summer Days when Living in Cape Coral Homes
A leisurely time is had in the Main Stream River Tube ride, a favorite place to float while soaking up the sun and dipping toes in the water. The Family Pool has zero depth entry and a sandy beach to laze upon. Quiet strolls around the grounds are scenic along the Ecological Boardwalk.
The littlests of guests on this refreshing piece of Cape Coral real estate have their own areas to let loose. Pint sized thrills are overflowing in the Pro Racers. Laughter is contagious under the Rain Tree where a sweet shower sprinkles non-stop. Pirate's Cove is the ultimate in splash pads. Truly a treasure, unlimited merriment is contagious.
Safety is key and the park assumes a greater responsibility on educating the public living in Cape Coral homes. Free Water Safety Clinics increase awareness about child drownings and how to prevent terrible tragedies. Those desiring to learn more about lifeguarding, first aid and other emergency services can take part in additional lessons. More information can be obtained by calling 239.574.0558.